Gumaranganyjal, Roebuck Plains Station
Roebuck Plains Station is located at Gumaranganyjal, near Broome. The station covers over 276,000 hectares, and includes the Roebuck Export Depot.  The area is also overlapped by the Yawuru Indigenous Protected Area (IPA).
The station is strategically located for the export market, located on rich marine floodplain 30 kilometres east of Broome, with the capacity to support a herd of 20,000 head of cattle.
The Indigenous Land and Sea Corporation (ILSC) purchased Roebuck Plains Station in 1999.
In 2006, Yawuru were granted native title over 530,000 hectares of land in and around Rubibi (the town of Broome), including the station and the depot.
The station and the depot were divested back to Yawuru in 2014, recognising Yawuru's traditional ownership of the area, with the ILSC managing the station and the depot via a lease agreement.
In February 2022, building on the legacy of our old people, Yawuru took over the pastoral operations of the station, and will work with the ILSC to transfer operations of the export depot in the future.
The station is managed and run as a successful pastoral enterprise and balances Yawuru cultural values in the overlapping IPA areas. Development of new enterprises and technology including pivot irrigation is undertaken collaboratively with Yawuru and the station management to ensure sustainable land use and positive outcomes for the enterprise.
The Native Title Rights of Yawuru People is recognised, as is their right to access Gumaranganyjal. A policy has been endorsed that will apply to all visitors to the Station. The below brochure and policy outline the varying degrees of access that will be applied based on the identified group an individual falls within.
Before accessing Gumaranganyjal read our Safe Access Policy: Safe Access Policy Brochure
Contact: Station Manager on 0418 950 001 or 0408 218 629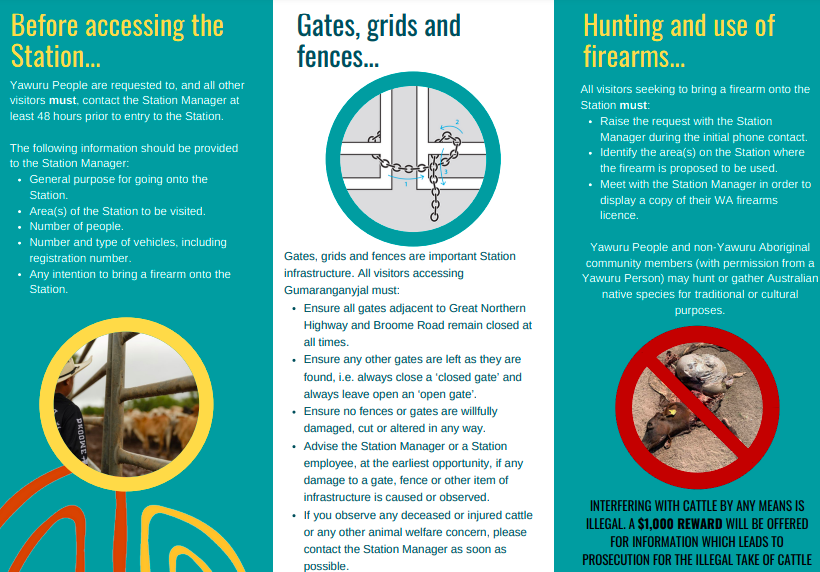 ---
Want to know more?
Visit us at Nyamba Buru Yawuru or contact the office on 08 9192 9600
---